Standard Canadian Website Hosting Packages
Sibername.com is a comprehensive Canadian web hosting service provider
All our personal and business web hosting programs are complete packages.
Choose the plan that's right for your business. You can upgrade, downgrade or cancel your subscription anytime.
Basic and Advanced Webhosting Packages.
* The price is for 5 years contract term.
** Free One-Click Apps Wordpress, Joomla, Drupal & more
*** You can add more for $1.00 a month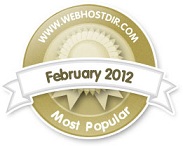 Some companies charge for basic service, and then charge extra for website hosting services such as WordPress blog software installation. With web hosting from Sibername.com, you get everything you need to maintain and develop your site included in one low cost.


Sibername.com delivers complete, affordable Canadian web hosting, including POP3 accounts, scripts for every need, database support, e-mail forwarding and auto-responders. And with daily system backup, you never have to worry about lost information. Plus, you get 24/7 support and a 99.9% uptime guarantee when you choose Sibername.com as your web hosting provider.

Check out our Website Hosting Features List Table for the web hosting features we offer at one low price. Feel free to email us at support@sibername.com and we'll help you decide.
All Sibername WebHosting accounts come with WebsiteMatic Website Builder options. Have your website ready in couple of minutes!
Please see the
detailed description
of the packages.
Do you have questions? Couldn't decide which package?
Call us today at 1-800-613-8915
No setup fee
Squash Spam, Viruses and Phishing threats before they reach your computer. (Free with all hosting plans! $10.00/month Value)
24/7 toll free phone and chat support
Free E-commerce, Blogging, Photo Sharing Software and More...
No hidden fees!

| | |
| --- | --- |
| All web hosting and domain name registration services include Website Builder which allows you to create your website in 4 easy steps. | |
10 Reasons to Choose Sibername.com
We accept VISA, MasterCard, Discover, Interac/Debit,
PayPal, Moneybookers, cheque/money order and cash






All of your support will be delivered by a team of Premium Agents.
We'll give you a toll-free phone number delivers outstanding "speed to answer."
You'll have access to a customized online Support Console that you can use and route online requests to our Premium agents.
All of your requests will be expedited. So if your Premium Agent needs assistance fulfilling your request, our Tier II agents and Engineers will give it special priority.
You'll be supported by a state-of-the-art phone and ticketing system
Please read our reviews here.
Special Offer: We will move your site smoothly and free of charge
Do you need to move your web site to us because you are being overcharged for your server space, continually experience downtime, and your web hosting company doesn't know the meaning of customer service? We will take care of each step involved in moving your web site and insure everything operates exactly as it should once the move is completed.
Affordable Web Hosting
We offer many low-cost web hosting plans to meet your needs. Our standard web page hosting plans are inclusive low-cost web hosting solutions designed for both personal or any-size company use. And all our web page hosting Plans utilize CPanel, so they are easy to manage.
Many corporations find the Silver Plan best meets their needs. And as your web hosting provider, Sibername.com will grow with your business. If at any point you require more extensive resources, you can easily upgrade to either our Gold or Platinum Plans. There will be no extra charge for changing plans; you just pay the difference in the monthly service cost.
Check out Web Site Hosting Features List Table for the low-cost web hosting features we offer at one low price.
Feel free to email us at support@sibername.com and we will be happy to answer your questions.