This program is discontinued by Google. No more $100 Google advertising coupons available!
If you have any active web hosting account with us, you are eligible to receive $100.00 Google Adwords Voucher.*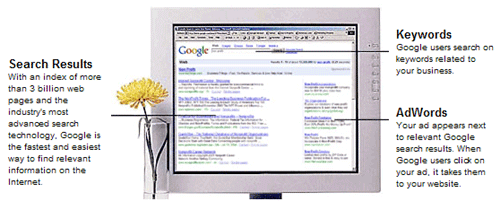 Google AdWords — what's in it for you? This booklet explains the benefits of AdWords to small businesses extremely well.
It's time to make sure potential clients can find you on Google! Google lets you publish text ads next to Google search results whenever a user is searching for your products or services.
It's a great way to reach thousands of potential clients, at exactly the right moment, when they actively searching for your type of business!
We think AdWords advertising will benefit your business because of the following reasons:
Quick and easy.
Create your advertising campaign online within just minutes.

Get targeted traffic.
Your ads appear next to search results when a user searches for words of your choice.
If you are a florist in NY you can choose to show an ad next to the search "NY flower delivery".

Pay only for clicks.
You pay only when someone shows interest in you by clicking on your ad.

Control your costs.
You decide how much to pay per click, and determine your budget.

Enjoy Powerful reporting
AdWords lets you know your results at all times.
Your personal voucher code is: Please email support@sibername.com to request your $100.00 Adwords Voucher.
How to claim your $100 Google advertising voucher:

Visit www.google.com/ads and get started with AdWords
Complete the sign-up process and create your first campaign.
When entering billing details you will be prompted to enter your code.
You can also enter the code later under the "billing" tab in your AdWords account.
Please use capital letters and keep the hyphens.
We wish you good luck and business success with your AdWords campaign!
| | |
| --- | --- |
| Google AdWords benefits: | |
Connect with new customers actively searching on Google for your products or services.


You determine your monthly budget. No minimum monthly spending required.


Select search keywords that best match with your target audience.


Target your ads to customers in services areas of interest to you - from as local as your neighborhood or city, to as widespread as the whole country.


You get to decide how much each customer lead (click) is worth to you. Some may cost as little as $0.05 .


Terms and conditions: Promotional credit must be applied to a new AdWords account within 14 days of creating the AdWords account and is valid only for new Google AdWords. Advertisers will be charged for all advertising that exceeds the promotional credit. Advertisers can suspend their ads anytime before the promotional credit amount is exhausted if they do not wish to receive additional advertising charges. Offer subject to ad approval, valid registration, and acceptance of the Google AdWords Program standard terms and conditions. The promotional credit is non-transferable and may not be sold or bartered. Offer may be revoked at any time for any reason by Google Inc. One promotional credit per customer. Advertisers with self-managed signup accounts are subject to a $5 (CAD10) activation fee and Advertisers who choose prepay billing are subject to a $10 (CAD20) minimum prepayment fee before their account is activated. Any such prepay amount will be credited to Advertiser's account once account is activated. However, these fees will be debited from the promotional credit if Advertiser's account was created after July 15, 2010 - that is, you will not be charged the activation fee. Offer valid only for sign ups through the URL provided for the promotion by customers with a billing address in the US or Canada. Your use of this voucher and/or the promotional credit constitutes your acceptance of these terms and conditions. Offer void where prohibited by law.